Meet Chocolako – a taste of Africa, a world of flavor.
She's a one-of-a-kind yoga teacher who leads the ultimate journey of self-acceptance and legendary love.
Her playful, sweet, and strong approach invites you to tap into your inner reserves of power, while providing a safe and supportive space for you to slash away fears and doubts. Her unique blend of physical and spiritual teachings has helped countless students experience greater vitality, peace, and purpose in their lives.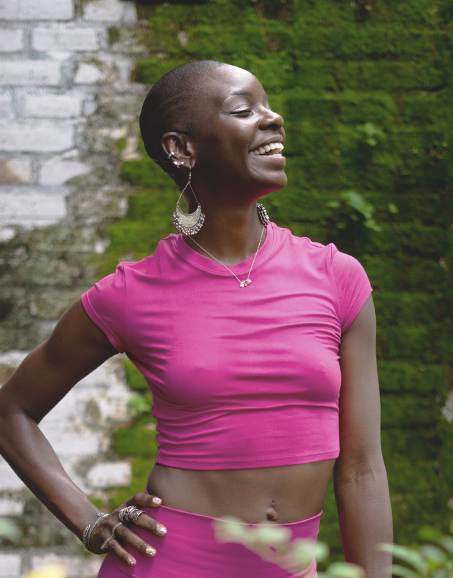 As a Nigerian-American, Chocolako has been practicing yoga since 2005 and teaching meditative movement since 2010 in classes, workshops, trainings, and retreats around the world. With over 1000 hours of yoga teacher training and a diverse range of perspectives, she infuses her classes with ancient, ancestral, and modern techniques. Behind the humor and free-flowing lifestyle of Chocolako is the wisdom of a yogi who has traveled the rocky road of life seeking the truth.
The death of her best friend's mother at a young age brought her face to face with the impermanence of each moment, and increased her appreciation for the sacredness of every breath. The nucleus of Chocolako's philosophy – Innergy – (a term she coined to describe the balance between inner strength and energy) helps seekers experience ease, steadiness, and coherence throughout life.
When not teaching, Chocolako can be found exploring the world, absorbing new insights and inspiration to bring back to her students. Whether studying with spiritual leaders in Peru, meditating with elders in Sri Lanka, or simply taking a walk in nature, she is always receptive to new ways to deepen her understanding of the Universe and help others do the same.
As the founder of Yoga Innergy and creator of Chocolako Chocolates, LLC, she's committed to helping people find their inner strength and flavor. 
She is a resident yoga teacher and teacher trainer at The Yoga Barn in Ubud, Bali, teaching regular classes, workshops, and the 200-hour Womb Wisdom Wellbeing Yoga Teacher Training.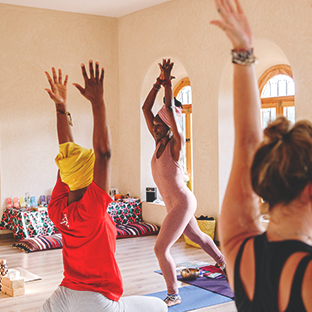 In addition to teaching yoga and meditation around the world, Chocolako holds an MBA from Bayes Business School in London, an MPH from the University of California, Berkeley, and a Bachelor of Science degree in Human & Organizational Development from Vanderbilt University in Nashville, Tennessee. She is registered with the Yoga Alliance with E-RYT500 and YACEP.
Whether you are a beginner or an experienced yogi, embark on a tantalizing journey toward self-actualization with Chocolako as your trustworthy guide.